Hayden Falls Park is the perfect place to visit when you want a nature experience but aren't feeling up to a long hike.
While maintained by the Columbus Recreation and Parks Department, this park is located in the Dublin suburbs. You'll find this hidden gem off Hayden Run Road near the bridge over the Scioto River. The exact address is: 4326 Hayden Run Rd. Dublin, OH 43017.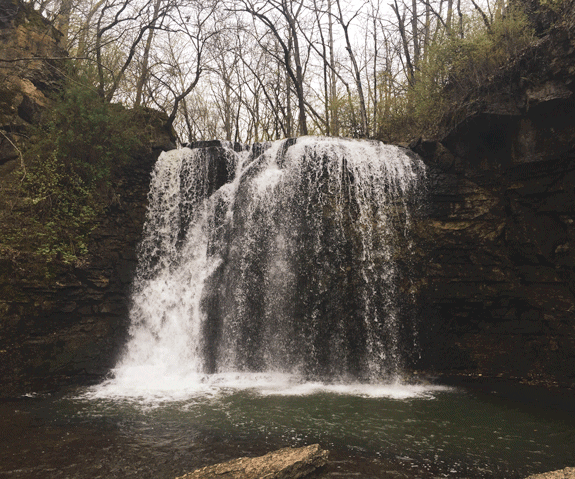 As you approach the park, you'll see a small parking area. To the left is a staircase to descend to get to the gorge and see the falls from the bottom. To your right there is path to the falls overlook.
Watch out for slippery steps. The wooden stairs get slippery when they are wet or icy.
Once you're within the gorge, it is just a short walk along a boardwalk to the beautiful waterfall.
As you walk through this tree lined majestic gorge, you'll quickly forget you are just steps from a busy road and homes.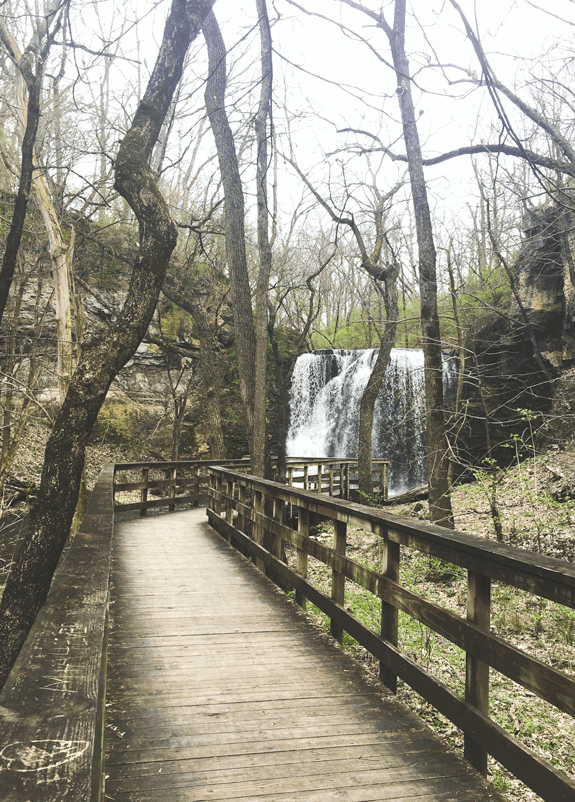 The crest width of Hayden Falls varies greatly depending upon the season and recent rain. Visiting after a big rain increases the chances of the falls being almost 30 feet wide, but the view is lovely even if the falls are narrow.
When you hear the roaring falls before you see them, you know they are running for sure! It can be quite loud – perhaps it is the acoustics of the narrow gorge?
The boardwalk ends at the base of the falls, which have an impressive 35 foot drop. As you enjoy the view, you may also get sprayed by the mist depending on how fast the falls are going and the wind direction.
If you're into waterfall photography, Hayden Falls is great to visit in the winter due to the short walking distance. Plus the gorge walls and waterfall look splenid covered in icicles.
Hayden Falls Roaring After 2″ Rain (3/20/2020)
Other Central Ohio Area Waterfalls
While you're in the area, why not also check out Indian Run Falls?
Pin it for later: