Indian Run Falls is a lovely waterfall in a park nestled behind office buildings in the Columbus suburb of Dublin, Ohio.
In fact, it's so hidden I worked for years in a buidling on Frantz Road and never knew the park was there until I had to venture to the post office nearby. Located in the same cul-de-sac as the post office, Indian Run Falls park is located at 700 Shawan Falls Road.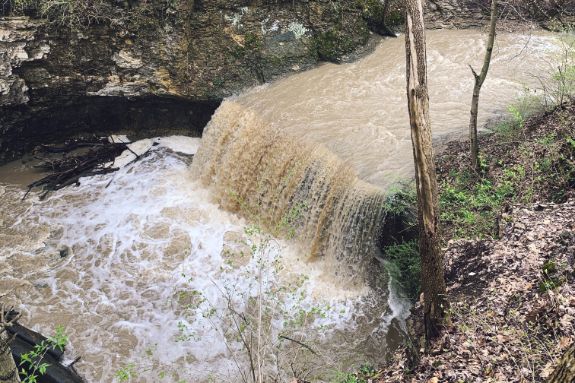 There's a parking lot area that holds about 20 cars. From the parking lot, Indian Run Falls is a short, easy walk at approximately 0.8 miles out and back. (See the trail map here)
The path that ventures to the left from the main trail will take you to two waterfall overlooks. The wooden decks allow for views down to the stream and falls below.
While it's hard to get a tell the exact height of the falls from this vantage point, they are about 15-20 feet high.
The main trail crosses a bridge and then winds through a wooded area along the rim of the gorge. The trail is mostly gravel with occasional wooden stairs and brief boardwalks.
Before crossing the bridge, you'll see a set of stairs descending down to the stream. This is the only spot where you can gain access to the water.
After going down the stairs, you'll be able to take a few steps along the banks to view the upper falls. This location is a great place to enjoy the sounds of the running water and perhaps sit for a minute to take in nature.
While there are no official paths to the access the bottom of the main falls, you'll see worn dirt paths. There is no safe way to access the main falls as the gorge walls are steep, so trying to get to the bottom of the falls is not recommended. Also keep in mind it is illegal and very dangerous to jump into the falls.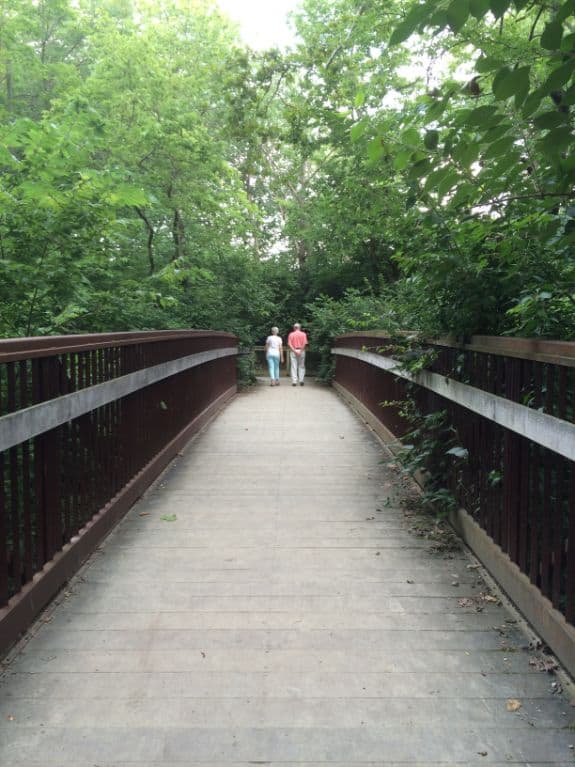 If you follow the entire trail you'll end up a short walk from the Dublin library, historic Dublin's Bridge Street and the Bridge Park area full of shops and restaurants.
Related Dublin Waterfall Articles
If you enjoy waterfalls, consider visiting nearby Hayden Falls while you're in the area.