If you're thinking about visiting Hocking Hills State Park, Old Man's Cave is a must-do hike. Old Man's Cave is located outside of Logan, Ohio off State Route 664.
While it's definitely worth your time and effort to visit this trail, read on to find out 5 things that will help make your trip the best it can be.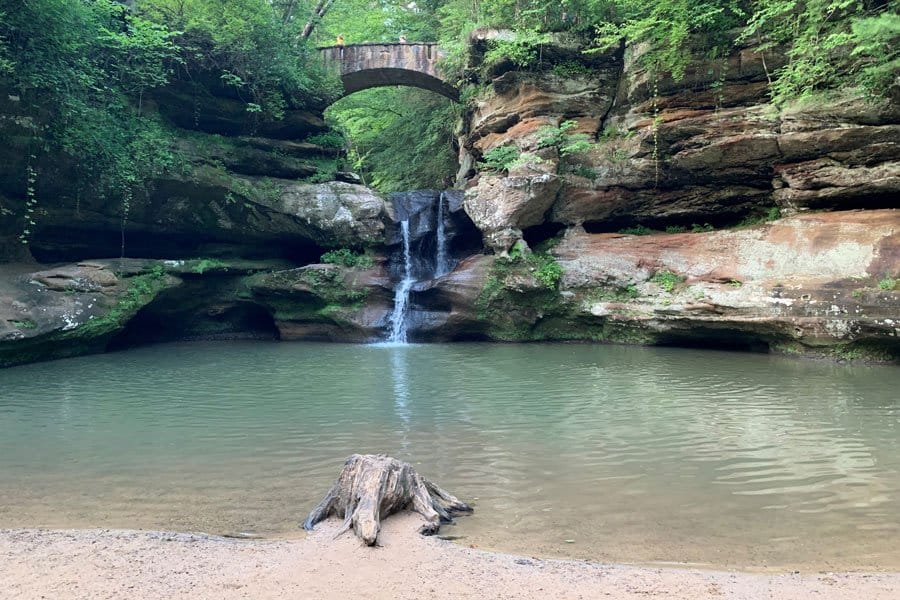 1) Short But Scenic Hike

Old Man's Cave is not a long hike, but it is full of many incredible features.
The gorge hiking trail is only about 1 mile in length (trail map). There are flights of stairs into and out of the gorge, plus some smaller rock staircases and bridges along the floor of the hollow, but overall the hike is navigable for folks who can handle such.
Despite the trail being short, there are many incredible features to enjoy along the way. The Upper Falls, Devil's Bathtub, Lower Falls and the namesake Old Man's Cave all deserve some time to observe.

While the walking can be done in about an hour, be sure to factor in some extra time to stop and take in all the beautiful sights. You'll definitely have time left in your day to check out some of the other parts of the park, such as Cedar Falls, Ash Cave, Conkle's Hollow, Cantwell Cliffs or the Rock house.
2) Go to the Visitor Center

The new Visitor Center, completed in 2019, is worth checking out. There are detailed displays highlighting the park trails as well as the history and geography of the area. The center also includes a gift shop which also sells some snack items. In addition, there are restroom facilities to take advantage of before or after your hike.

Side note: there is currently not a Hocking Hills lodge restaurant. The previous lodge burned down and has yet to be rebuilt. So, if you're looking forward to a picnic at Old Man's Cave, pack your lunch or purchase sandwiches, chips and the like at the nearby Grandma Faye's.
3) It Gets Crowded

Old Man's Cave is near the park's visitor center and packs many stunning features within a relatively short trail. For these reasons, both the parking lot and trail can get extremely crowded.

Summer and fall weekends are notoriously packed. If you visit during this high season, we recommend trying to go early in the morning or later in the afternoon to avoid the mass of people.

Off season can be just as beautiful and much less crowded (except for the weekend of the annual Winter Hike).
4) The Trails Get Icy

With icicles adorning the sides of the gorge and frozen falls, Old Man's Cave will make a cold weather lover out of you. Layer up and visit during this stunning season and enjoy the less crowded trails.
However, do know the trails can get icy. The rock staircases can get very slippery. Wear boots or shoes with good traction to navigate the hiking trail. Likewise, the trail can get extremely muddy in the spring or after a big rain.

Don't let this fact deter you from enjoying Old Man's Cave – just plan your footwear accordingly.
You may want to bring an extra pair of shoes to change into after your hike so you can leave those messy boots in your car trunk.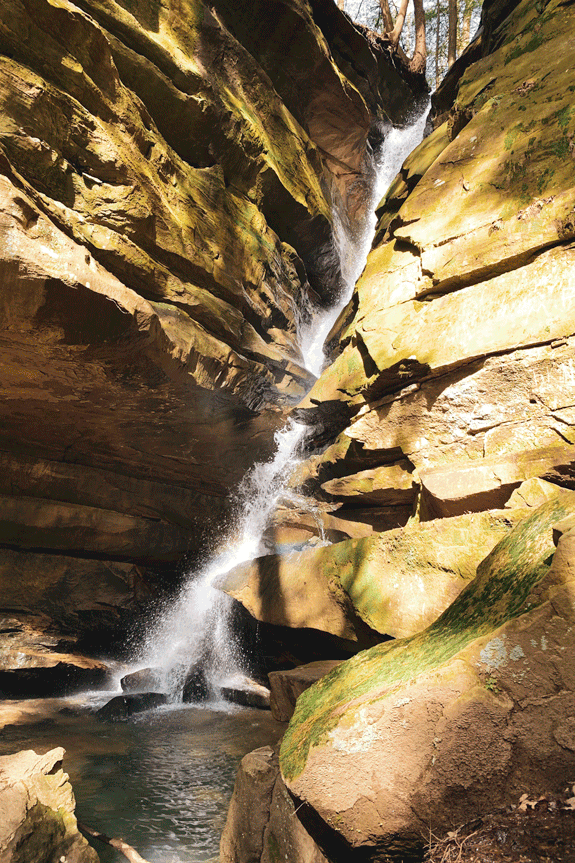 5) Take the Broken Rock Falls Spur
The Broken Rock Falls is a spur trail off the Old Man's Cave trail near the Lower Falls. It's only 0.1 mile in each direction but does include climbing steps. But if you're up for a little extra effort, Broken Rock Falls is worth the short detour.

Most hikers skip this trail spur and miss the chance to get close to an incredible waterfall the appears to split a rock in half.
Like all waterfalls in this area, the volume of water may be dependent upon recent rainfall. There is a small staircase leading into the plunge pool at the bottom of the falls which allow for a unique vantage point.
Keep these 5 tips in mind when planning your trip to hike Old Man's Cave in Hocking Hills State Park. This trail highlights the incredible features of the area and is popular for a reason. Definitely add Old Man's Cave trail to your visit.
Related Hocking Hills Articles:
Pin It for Later: