With the closing of my nearby Crafted Draft, I went on a mission to find another great Columbus area beer store.
After scouring Yelp and other online reviews, I learned about Pour Perfect Beverage Co and decided to see if it lived up to the five star rating hype.
Spoiler alert: it does.
Here's why Pour Perfect is the best Columbus area beer store.
While it's located in the Sawmill Road area of Dublin, this bottle shop is worth the drive from other parts of town.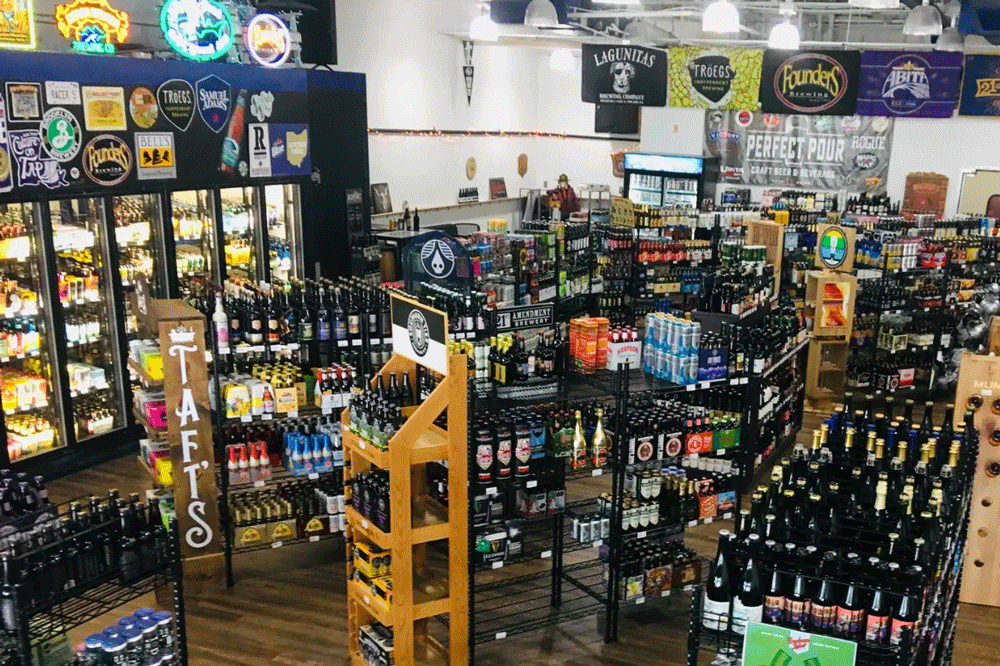 Lots of Singles Available
Want to try a beer before committing to a six pack? Involved in a beer trade and want to share some of your favorite local beers with your trade partner? I get it.
In fact, my entire reason for wanting to find a bottle shop with singles was to be able to send a bunch of different beers to a beer trade partner.
I love my local beer but didn't want to have to buy 6 different 6 packs just to be able to send her one of each.
I love that Pour Perfect has entire shelves dedicated to single cans and bottles.
But the best part is, if you don't see a beer you want to try in a single, they will absolutely break up a six pack to allow you to purchase just one. Fantastic!
The store provides "build your own six pack" carriers for you to fill up with all those tasty brews you've been wanting to try.
Since I was mailing my beers, I was glad to find many of the beers are not refrigerated.
However, if you don't have the time to chill your beer, they have quite the large walk in cooler section.
Great Local Selection
Looking for that special Columbus or Ohio beer? Pour Perfect has a wide selection of Ohio brewed beverages for purchase.
Wolf's Ridge: check. Hoof Hearted: check. Urban Artifact: check. Listermann: check.
You can find a huge variety of Ohio's breweries represented here.
Great National and International Beer Selection
However, their beer selection isn't limited to Ohio breweries. They have plenty of beer from other regions and countries. Belgian beer FTW!
If you're headed to a tailgate or craft beer isn't your thing, they also carry the large brands – so no need to make an extra stop at the grocery store on your way home.
Knowledgeable and Friendly Staff
Here's where Perfect Pour really stands out – their staff is amazing.
When you enter the store, they typically ask is you've been to the shop before.
If you say no, you'll be given a brief tour of the shop, showing you how the beer is arranged by style and the like.
The staff is quick to offer up suggestions based upon your style preference if you are looking to try something new.
The employees are helpful, but also have the presence to allow you to browse and wander if you'd prefer to investigate the selection on your own.
Drink Beer While You Shop
While serving beer while you shop is temporarily halted due to the coronavirus restrictions, we can't wait for the tap service to come back.
In addition, Pour Perfect also consistently offers Friday night beer tastings hosted by beer representatives.
Perfect Pour offers a range of wines and ciders, plus they carry some brewery merchandise as well.
Next time you're in the Dublin area of Columbus, be sure to stop by Perfect Pour Beverage Co to stock up. You won't leave empty handed.
Additional Beer Related Articles: