Spending a day sampling Ohio beers? Flights and pints add up, so you're going to want to eat at some point.
Most taprooms rely on food trucks or bar snacks for their customers. Fortunately, there are also some great Columbus breweries who boast full menus.
Here are some of the best Columbus breweries with food:
Somewhere In Particular
Rockmill Tavern  CLOSED 2022
Wolf's Ridge Brewing
Barley's Brewing Company
Hoof Hearted Brewery
Elevator Brewery and Draught House
Knotty Pine Brewing
Gemut Biergarten
Columbus Brewing Company 
Let's take a more in depth look at what each of these brewery kitchens have to offer.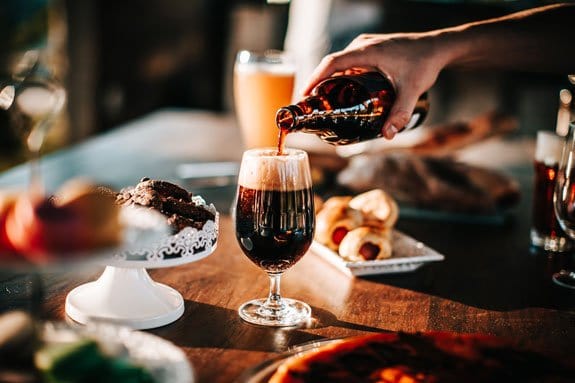 Somewhere In Particular
While overall the menu leans toward bar food standards, their pizza is some of the best in Columbus.
If you're tasting beers in the northwest corner of the city, be sure to add Somewhere In Particular to your stops.
While some of the other locations on this list have more of a restuarant atmosphere, this one definitely has the taproom feel with high top tables.
During warm weather seasons, Somewhere in Particular has picnic tables outside where you can enjoy your delicious beer and food.
Somewhere In Particular is a good choice if you're looking for something more than the standard snacks but still want that beer tasting experience.
The kitchen hours vary, so be sure to check out their website for times.
Rockmill Tavern CLOSED 2022
The menu at Rockmill Tavern is more upscale than your average bar scene. Don't be fooled when you see a burger on the menu – this isn't your basic fast food type sandwich. This burger is the real deal!
Rockmill Tavern is open for lunch and dinner Wednesday – Sunday, plus they also have a brunch menu on the weekends.
As the name suggests, Rockmill Tavern has a pub style to it with restaurant seating. The atmoshpere is elegant yet casual.
There is a separate bar area if you want beer without a meal.
Bonus: you can make a reservation on their website.
Wolf's Ridge Brewing
Wolf's Ridge Brewing has two dining options for you: the dining room and the tap room.
And either way you can't go wrong, because Wolf's Ridge has amazing beer.
The dining room is open Tuesday – Sunday for lunch and dinner. The dinner in the dining room is fancier than the lunch menu, so take a look at it before you go. The dinner menu is in the fine dining/special occasion category.
If you are looking for a less formal experience, their brunch is a more approachable option. We can personally vouch their brunch is one of the best in Columbus!
You can make dining room reservations on their website.
The tap room is a more casual menu, leaning towards shareables and sandwiches. The atmosphere of the tap room is more laid back than the dining room.
A larger number of draft beer is available in the tap room vs. the dining room. FYI – the taproom doesn't open until 3pm on weekdays, but opens at noon on weekends.
If you're looking for a beer experience with food, we recommend the tap room.
If you'd rather a foodie experience that also happens to have great beer, go for the dining room.
Barley's Brewing Company
One of the O.G.s of the Columbus brewery scene, Barley's Brewing Company on North High is a downtown staple.
It can get busy during the lunch hours, since it is right across the street from the convention center. If you're headed there during the daytime, take a peek at their website's home page. At the bottom is a handy 'Lunch Traffic Report' to let you know if there are any expected delays due to convention goers and downtown workers.
But even if you have to wait a bit, we think their Barley's Unconventional Wings are worth it.
Overall, their menu is pretty robust with soups, salads, sandwiches and entrees, so everyone is bound to find something to suit their tastes. The atmosphere is a casual restaurant with a bar area.
Barley's interior has a bar area, wooden booths and tables.
Hoof Hearted Brewery
Hoof Hearted Brewery's menu has plenty of starters on their menu, which is good if you plan to just nosh your way through the day. They sharables range from alligator to cheddar jalepeno fries to charcuterie.
Hoof Hearted has a bar area as well as tables for seating. It's neat to see the brewing equipment while dining, but the large vats seem to chop up the space strangely.
If it's summer time, eat your lunch and then head to the pool to drink some drafts. Yes, you can sit first come first served at The Athletic's pool.
Mom always said to wait 30 minutes after food before swimming, but we won't tell if you break the rules.
Elevator Brewery and Draught House
Another of the original Columbus beer options, Elevator Brewery is located in a spot convenient for a bite before whatever sports or arts event takes you to the area.
We really like the lunch Almond Crusted Chicken Salad, but they have soups, salads, sanwiches and entrees of all types on their menu. This is a popular spot for folks who work downtown.
There is a bar at Elevator, but this location definitely feels more like a restaurant that also happens to serve beer.
Important Note: this is a different location from their taproom, so be sure you select the N. High Street address on your GPS for the restuarant.
Knotty Pine Brewing
While this Grandview spot serves lunch (except on Mondays) and dinner, they are known for their brunch.
Catch their breakfast nachos and other brunch offerings Saturdays and Sundays 10am -2pm.
And if you need a break from beer, they serve $2 mimosas and have a bloody mary bar.
Knotty Pine is a laid back restaurant atmosphere great for meeting up with friends for a meal.
Gemut Biergarten
You might guess Gemut Biergarten serves German food – and you'd be correct!
While they serve the requisite soft pretzel, Gemut Biergarten also serves traditional German fare such as sausages and schnitzels.
It's definitely a hearty menu perfect for getting some food into that beer filled stomach.
Gemut serves both good beer and good food.
Almost as interesting as their menu is the building itself. The brewery is in an old brick firehouse and has beautful stained glass windows.
And as their name suggests, Gemut has a sizeable beer garden patio area to enjoy your beer outside.
It's the perfect place to sit for a while between stops on your Columbus brewery tour.
Columbus Brewing Company
Columbus Brewing Company's menu contains the standard sandwiches, sharables and pizzas.
Perhaps best known for their IPAs (they currently have multiple hazy IPA s, imperial IPAs and double IPAs on draft), they also offer lagers, wheat ales, pilsners and other styles.
However, they also host special food and beer pairing events with local vendors. For example, their next event is a tasting of their lastest seasonal beer with Brezel Columbus pretzels.
Be sure to check their website or social media to get the latest.
Best Breweries Columbus with Food Conclusion
While Columbus is full of amazing breweries, many of them stick to food trucks and bar snacks for food offerings. If you're looking for a place to grab a meal during your beer sampling tour, add one of these breweries with full menus to your schedule.
Looking for More to Do In Columbus?
Ohio Beer Articles:
Pin it for later: