If you're looking for a place to go hiking in central Ohio, Highbanks Metro Park is a great place to get outside to go for a walk. Situated in Lewis Center, Highbanks is a beautiful respite amid a bustling suburb near Columbus.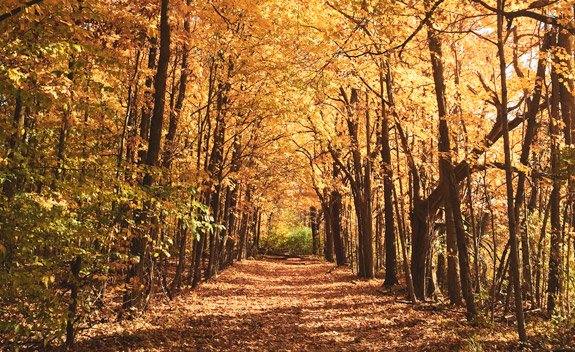 Full of picturesque trails with sights ranging from groves of trees, the Olentangy River, Adena mounds and even an eagle's nest, this metro park is sure to have something for every outdoor lover. Hiking in Columbus doesn't get much better than this.
While beautiful no matter the season, fall is when Highbanks really dazzles. The Dripping Rock Trail areas behind the nature center and to the south of the Oak Coves picnic area come alive with bright yellow and oranges.  This area is highly recommended for autumn hikes – some of the best hiking in Ohio.
However, you really can't go wrong on any of the trails. See their website for a Highbanks Metro Parks Trail map.
Highbanks Metro Parks Dog Friendly Trails
Want to bring along your best hiking buddy, aka your dog? Dogs are allowed on some of the trails.
Big Meadow Path: 1 mile
Coyote Run Trail: 3.5 miles
Multi Use Trail: 2.3 miles
Oak Coves Path: 0.4 miles
Scenic River Trail: 0.6 miles
In addition to these trails, dogs are permitted in the picnic areas, along the roadway and in the parking lots.
According to Highbanks Metro Park's website, dogs must be on a leash no longer than 6 feet.
Highbanks Amenities
Picnic shelters, available on a first come basis
Sledding
Fishing
Canoeing (access from the River Bluff entrance)
Cross Country skiing
Nature Center
Events and Educational Programs
Eagles
Bald Eagles are making a comeback in Ohio, and Highbanks Metro Park is a great place to check some out. There is a nesting pair along the Overlook Trail. Head toward the Observation Deck along this trail to see the amazing birds in action. There are typically signs along the trail indicating the best route to see the eagles. February or March is a great time to visit, as they are easier to view without leaves on the nearby trees.
Get excited to see these majestic birds:
Hiking in Central Ohio Series – Highbanks Conclusion
If you are looking for a place to go for a hike in the Columbus area, Highbanks has lots to offer. With dog friendly trails, an eagle's nest and regular events/programs, you'll be sure to find a reason to visit Highbanks Metro Park.
Related Central Ohio Hiking Articles:
Pin it for later: