We get it – those Pinterest and Instagram photos of Corkscrew Falls sure make it look magical. A twisting and turning waterfall amid moss covered rocks looks like something right out of a fairytale movie.
If you've added finding this elusive waterfall in the Hocking Hills area to your adventure list, be sure you know the following things before heading out.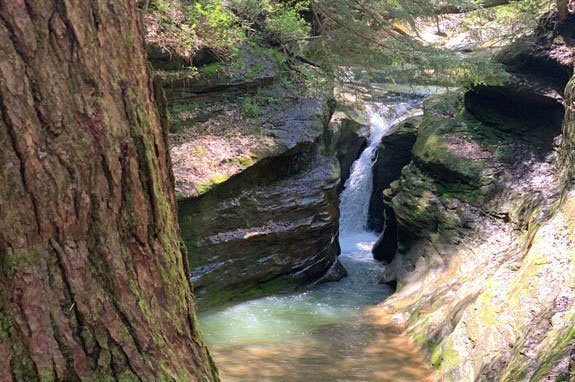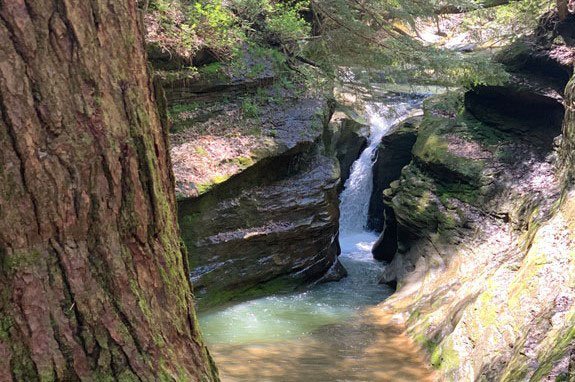 Here are 5 Things You Must Know Before Going to Corkscrew Falls
The falls are incredibly small
You can't get close to the waterfall
You need a permit to visit
The trail isn't near Hocking Hills State Park
Add Rock Stalls to Your Trip
Let's dig deeper into each one of these 5 points so you have a solid plan when heading to the waterfall.
1) The Falls Are Incredibly Small
Corkscrew Falls is only about 10-15 feet in height.
Compared to most of the waterfalls in the Hocking Hills area, that is tiny! Ash Cave, for a comparison, has an impressive height of approximately 90 feet.
Another well known waterfall in the area, Cedar Falls, is about 50 feet in height.
If dramatic plunging water over a steep cliff is your aim, you won't find it at Corkscrew Falls.
However, what does make this waterfall is its (you guessed it) corkscrew shape. The sandstone has been carved away by erosion in such a way the water appears to twist as it plummets down the face of the rock.
The majesty in this waterfall isn't its height, but rather its unique shape.
2) You Can't Get Close to the Waterfall
Once you navigate the noticeably short trail, you'll enter a small roped off area that is both quite a distance from and to the side of the falls.
If photographing Corkscrew Falls is your aim, do know you won't be able to take a straight on shot of the falls from the designated viewing area. In addition, you won't be able to access the base of the falls.
Take your zoom lens with you for your camera. And if you're relying on the digital zoom lens of your phone, well, it's not going to be the best quality.
Please keep in mind this area is roped off a reason. Venturing outside this zone is bad for both the health of the ecosystem and your own safety.
Respecting the rules protects the land and ensures the trails stays accessible.
3) You Need a Permit to Visit
The area surrounding the waterfall used to be private land owned by the Robinsons, so sometimes you will hear the falls referred to as Robinson Falls. I suppose the adrenaline rush of trespassing was part of the excitement for many of the visiting adventurers and photographers.
However, the area is now under the care of the Boch Hollow State Nature Preserve.
To access the waterfall trail, you will be required to apply for a permit with the Ohio Department of Natural Resources. The good news is that requesting your permit is an easy and fast process.
Basically, you fill out a PDF form with your requested date for visiting, your car license plate and some other general information and send it via email.
In return, in a few days you'll receive a reply with detailed directions to the falls as well as parking information and other guidelines.  
Keep in mind it takes time for your request to be processed, so you'll want to fill out the form at least 14 days before your trip.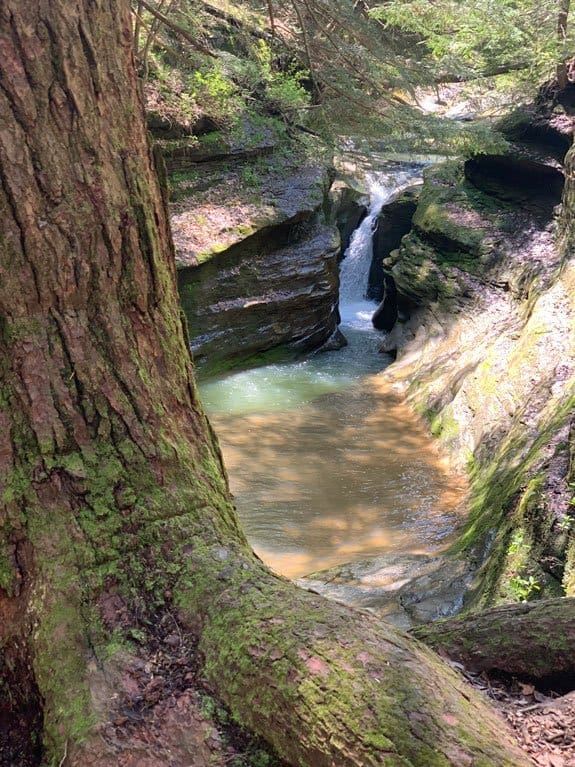 4) The Location Isn't Near Hocking Hills State Park
Corkscrew Falls isn't "just down the street" from Hocking Hills State Park. It's not something you squeeze in between the must-see attractions of the area.
Boch Hollow State Nature Preserve is located north of U.S. Route 33 and the city of Logan. The waterfall area is at least 20 miles away from Old Man's Cave in Hocking Hills State Park, meaning a 30-40-minute driving along winding country roads.
If you are staying in a cabin in the vicinity of the state park, you'll want to allow at 2 hours, including an hour of driving and some time to enjoy the falls.
You will pass through Logan, which has highest concentration of restaurants in the region. It's a good idea to plan your trip to the falls around a meal so you can take advantage of being near the eateries.
However, just because Corkscrew Falls isn't near to state park doesn't mean the area isn't beautiful. Indeed, it is!
In fact, there's another area we highly recommend you visit after you've taken in Boch Hollow.
5) Add Rock Stalls to Your Trip
Only about a 10-minute drive from Corkscrew Falls you'll discover another great place to take in the wonderful scenery of the Hocking Hills.
Rock Stalls Nature Preserve (also known as Rock Stulls) is not well known and yet it has incredible features. The preserve is operated and owned by Camp Akita, however they allow public access to this particular trail.  
To get to the preserve, plug the address 29886 Rock Stull Rd., Logan, Ohio 43138 into your GPS.
(IMPORTANT NOTE: Cell phone and GPS coverage can be questionable in this area. We recommend mapping your route at a time when you do have reliable service and then take screenshots of the maps. That way you'll have a backup if you do lose your signal)
The entire trail is a manageable 1.5 mile hike – the perfect length to think you've gone somewhere but you won't be too worn out for the rest of the day.
Do know there are some stairs that may be slippery if wet or icy.
In addition, there's a small stream to cross, so plan your footwear accordingly. Hiking in wet socks is not a pleasurable experience.
You'll descend into a lovely shaded gorge full of interesting rock formations. During the spring, the floor of the gorge is a wonderful place to view some of Ohio's best wildflowers.
There are two waterfalls in Rock Stalls.
The first one you encounter is the most impressive. While it probably isn't any taller than Corkscrew Falls, the fact you can stand near the base of the falls makes it a more impressive experience.  
The falls don't have incredible volume, so they will be best visited after a rainfall.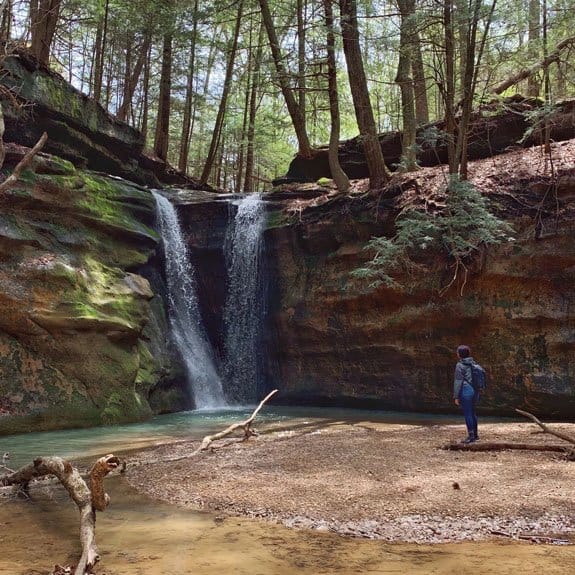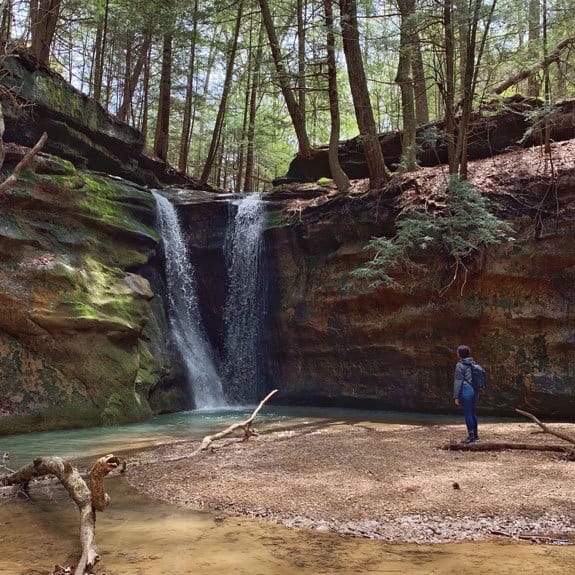 Winter is also quite beautiful when ice clings to the cliffs. While many people stay away from Hocking Hills in the colder months, it really is one of the most stunning times to visit.
From this main waterfall, there is a hill to the right. Scramble up this hill to see the second waterfall. From this hill, you can climb back up to the top of the gorge via some stone steps.
We believe you'll find visiting Rock Stalls Nature Preserve a perfect complement to Corkscrew Falls.
Should I still go to Corkscrew Falls?
Yes! The purpose of this article isn't to dissuade you from visiting the waterfall. If you're looking for something off the beaten path of the typical tourist spots (or have already done them all), the why not go check out the falls?
We just want you to be prepared for your experience in the best possible way.
Now that you're armed with what to expect at Corkscrew Falls and beyond, enjoy your trip to the incredibly stunning Hocking Hills, Ohio area.
Additional Hocking Hills Articles: