Whether you want to save an awesome beer label or reuse the bottle, removing the label can be a challenge.
Having spent time soaking bottles in water, trying to peel and scrub, I went on a quest to determine the best way to remove the labels where the labels were still intact and the bottles were glue free.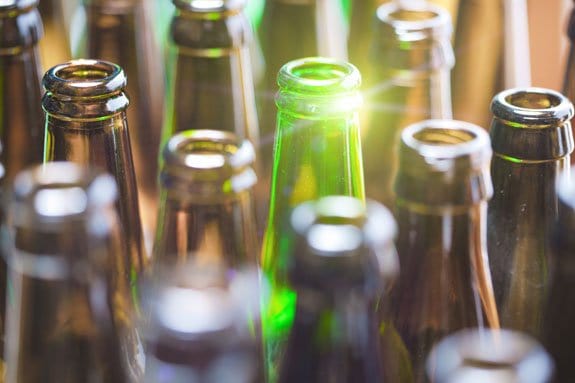 After drinking many bottles of beer in the name of research and experimentation, here's the best method I've found.
The short answer for how to remove beer labels from bottles: Soak in a solution of water and Oxiclean.
Read on for the step by step details and additional tips.
Why Remove Beer Labels from Bottles
Why would you even want to remove beer labels?
Search Pinterest and I'm sure you'll find a plethora of craft ideas using bottles.
But specifically, craft beer lovers might be interested label removal for two main reasons:
to collect labels
to reuse the bottles for homebrewing
Collect labels
Keeping craft beer labels is a great way to remember the fun day you had at a tasting room. In addition, some bottles have amazing artwork and branding.
Collecting labels, arranging them in a collage and then framing them would make a great way to decorate your home bar.
Or here's a way to use them on coasters via Crafts by Amy Elliot.
Save bottles for homebrewing
At some point or another, many craft beer lovers become interested in homebrewing.
Buying all the equipment and supplies adds up quickly, so homebrewers like to save and reuse the bottles from the commercially brewed beer they drink.
Why Oxiclean Versatile Free Version
As a well known brand, you can find Oxiclean and many retailers, such as grocery and big box stores. However, not all stores may have the Versatile Free version in stock.
Luckily, if they don't, it's readily found on Amazon (affiliate link).
Oxiclean Versatile Free is named as such because it doesn't contain added dyes or fragrance.
Fragrance won't be an issue if you are interest collecting labels and not reusing the bottles for homebrewing.
But I haven't tested to see if the dye will impact the label colors. You can try it if you want, but I would recommend testing it on a label you don't care about before trying a favorite one.
If you will be reusing the bottles for beer, many homebrewers recommend using the dye and fragrance-free version to clean (but not sanitize) the bottles.
You can also use Oxiclean to clean a growler that has turned funky.
Multiple uses for the win!
Steps to Remove Beer Labels from Bottles Easily
Fill your sink with enough warm water to cover the bottles
Add a scoop of Oxiclean and swirl it around to distribute it throughout the water
Place your bottles in the water and hold it down for a few seconds so it fills up and doesn't float
Allow to soak at least 15 minutes.
Beer labels may come off completely on their own – remove from the water when they do.
Troubleshooting and Tips
If the label needs a bit of coaxing, try using tweezers on the edge of a label to lift it off. Don't pull – if the label doesn't slide off easily, put it back to soak longer.
Don't let the labels sit in the water over a few hours – the paper will start to disintegrate.
Lay the label artwork face down on a paper towel to dry. Keep the glue side up so it doesn't stick to the paper towel. The label may curl as it dries, but you can flatten it later between some heavy books.
There may be some glue residue left on the bottle that can be scrubbed off.
A Timelapse of Different Beer Label Removal Methods
The folks over at Thirsty Bastards did a fascinating timelapse of removing beer labels with different solutions (water with Oxiclean, water with baking powder, and water with baking powder and vinegar). Spoiler alert: Oxiclean solution was the winner.
What do you do with your labels and bottles?
Additional Beer Related Articles: