Heading to the Hocking Hills for a day of hiking the trails is an exciting adventure. With numerous trails, it's easy to spend all day exploring this incredibly beautiful area of Ohio.
Be prepared for your adventure by packing the following items so you can make the most of the day.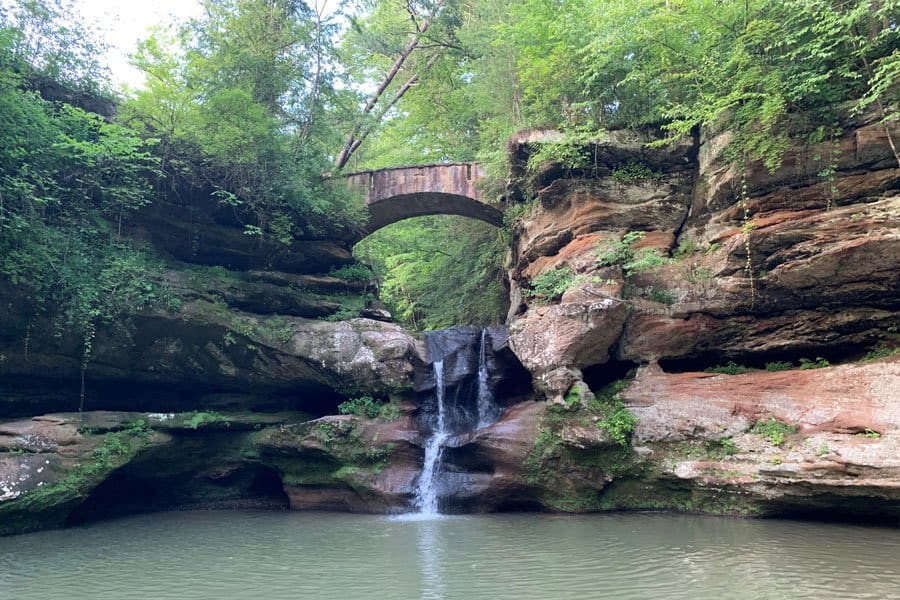 1) Sunscreen
Don't let sunburn ruin the rest of your trip in the hills. It can be tempting to skip sunscreen when you're on a shaded trail, but the sun does make it through the trees.
Put on a layer of sunblock before setting off on your hike and reapply as often as recommended on the sunscreen's packaging.
2) Insect Repellent
In the spring, summer and fall, Hocking Hills has mosquitoes, ticks, and all sorts of other pesky insects. Be prepared with insect repellent.
As with sunscreen, don't forget to reapply as recommended on the packaging of the repellent you bring.
3) Water Bottle
Whether it's a prefilled water bottle or a reusable hiking water bottle, you're going to appreciate having water with you during your hike.
Many of the hikes have restroom facilities at the trailhead with water fountains. The nature center at Old Man's Cave also has a gift shop with drinks for purchase.
4) Lunch
Grandma Faye's is a good place to purchase a premade sandwich, some chips and a drink. This store is not far from Old Man's Cave. Grandma Faye's address is: 20507 State Route 664 S, Logan Ohio.
Or bring your own pre-packed lunch in a cooler.
Make use of one of the many picnic areas throughout the park system or take your lunch to eat on the trial. Remember to pack out all your trash should you decide to eat along the trials.
5) Snacks
After all your hiking (or even during), you're going to work up an appetite for some snacks. Be at the ready with some bags of chips, trail mix, granola bars or other easy to transport snacking treats.
Grandma Faye's and the state park nature center at Old Man's Cave are good places to grab a snack.
6) Sunglasses
Even though you'll spend a lot of time in the shade of the tree lined hollows, when you hit a patch of sun it will feel like a big contrast for your eyes. When you do find a sunny spot, you'll want to have your sunglasses.
7) Hat
A hat is a great way to add some extra protection from the sun, especially for bald folks or people with fair scalps.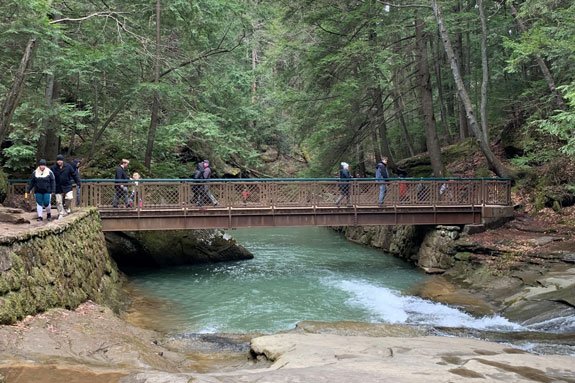 8) Good Hiking Shoes
Depending on weather and the trail you select, you may want boots. Trails can become muddy after a rain and icy during the winter months.
On trails like Ash Cave, Conkle's Hollow and Old Man's Cave you will generally be okay in sturdy athletic shoes unless it has recently rained or snowed.
However, Old Man's Cave trails can get incredibly icy during the winter months. Not only will boots help keep your feet warm, you'll benefit from the extra traction boots provide.
9) Camera/Phone
The Hocking Hills area is so scenic, you'll find many spots where you'll want to take photos.
If you choose to use your phone's camera, be sure you keep a firm grip on it when near cliffs and water.
Another tip for your phone camera is to back up your photos before your hike and then delete as many old photos off your phone as possible. This will clear up memory space and help you avoid the dreaded 'storage full' error while out on the trials.
10) Power Bank
Don't get caught with a drained phone battery. Cell service can be spotty, and you may run down your phone's battery as it searches for a signal.
Turn your phone on airplane mode when you can or bring a backup power bank. If you are only doing short trails, you can leave the power bank in your car and then charge as you drive between trails or stop for a meal.
11) Charging Cords
Whether you're using a power bank like mentioned above or your car's charging capabilities – don't forget to take the appropriate charging cords you'll need for your phone, GPS or other electronics.
12) Sweatshirt/Light Jacket/Rain jacket
The shaded hollows can feel almost 10 degrees cooler than in the sun, so bring a sweatshirt or light jacket in case you catch a chill.
If there's rain in the forecast, take your rain jacket which can serve the purposes of shielding you from the rain and adding an extra layer.
13) Plastic Bag or Tote Bag
A plastic bag (or reusable grocery tote) in your car's trunk is good to have on hand. You can place your muddy boots in the bag after your hike, so you don't get your car floors messy. Also, handy to collect any trash you accumulate during your day.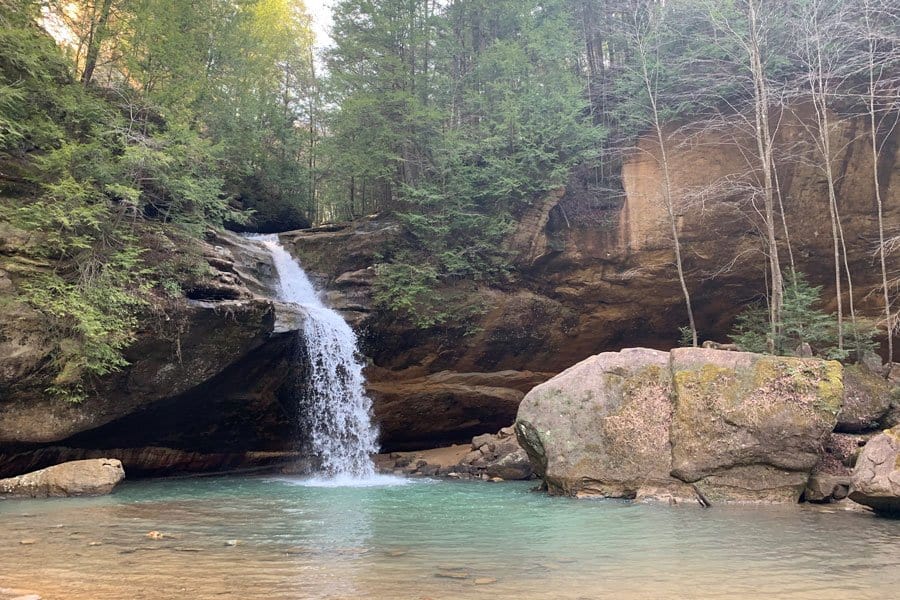 14) Lightweight Day Pack
For hikes that will take longer than an hour or so, you may want to take your water, snacks, sunscreen and insect repellent with you.
Unless you wear cargo pants or have lots of large pockets, a lightweight day pack is a good solution.
15) Trail Map
Remember how we mentioned cell service can be spotty? Well, you don't want to be caught out on a trail wondering how far you have left to go….and then not be able to access the trail map on your phone.
We recommend taking screenshots of any trail maps you plan to hike so you'll have then to refer to, cell service or not. The Hocking Hills map center website has some great maps.
16) Road Map
Same goes for navigating the roads in the Hocking Hills area. The park trails are not contiguous, so if you plan to go to multiple trails, you'll need to know how to get to each part of the park.
Screenshot the road map of the area so you'll be prepared if you lose your GPS signal in the hills.
The Hocking Hills Map Center also has an area road map for you to download.
18) Hand Sanitizer/Sanitizing Wipes
Before you eat lunch or snack, you'll want to clean off your hands. While there are public bathrooms in the state park areas, it can be more convenient to use a wipe, especially if you decide to eat during a hike.
Even if you aren't going to eat, wipes come in handy after touching stair railings or other things you may encounter along your hike. Please dispose of the wipes in a state park trash receptacle or pack out your trash.
No matter the season, the area is stunning. Be prepared and you're certain to have an awesome time exploring the beautiful trails. Here's to a great day hiking in the Hocking Hills!
Related Hocking Hills Articles: