What's better than hiking in the Hocking Hills? Hiking with your dog in the Hocking Hills!
Luckily, there are plenty of dog friendly trails to explore with your furry friend.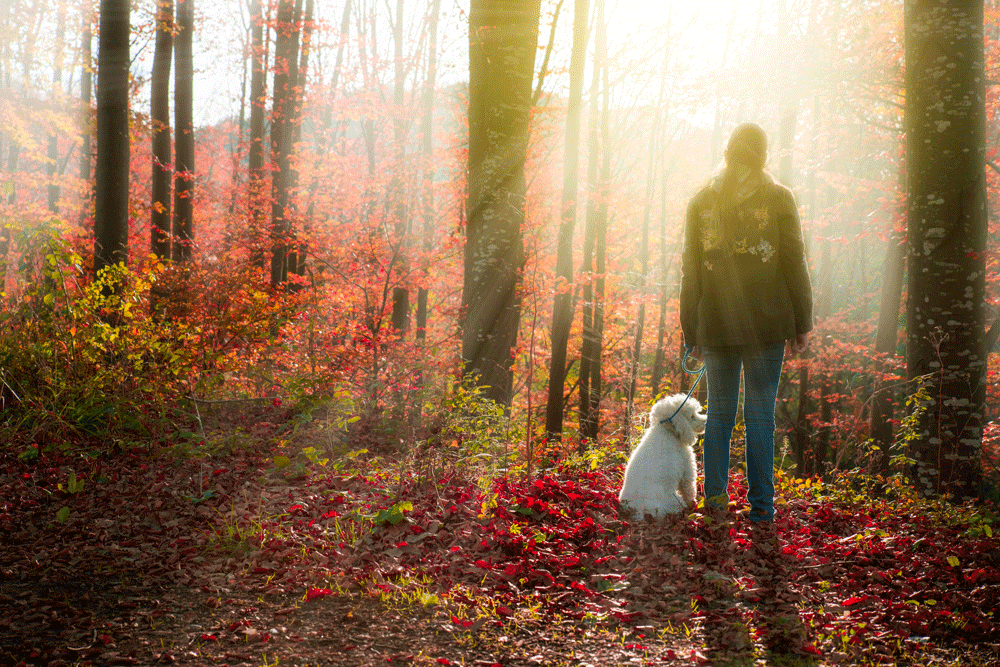 Dog Friendly Trails in Hocking Hills
Ash Cave
Ash Cave is a great place to test out how well your dog will do on a hiking excursion. The gorge trail is flat, mostly paved, and short.
If your dog used to a daily spin around your neighborhood sidewalks, Ash Cave's gorge trail should be manageable.
If your dog is more adventurous, Ash Cave's rim trail is also a good test to determine their comfort level.
While the hike is still short, there is elevation gain and dirt path. You can get a sense of how well your dog does with cliff edges on the Ash Cave rim without being committed to many miles.
Read More About Ash Cave.
Old Man's Cave
For the overall length of this trail, the sights are many for both dogs and humans.
The Upper Falls area has a larger open area perfect for some play or to simply sit down and take a rest.
There are some bridges and stone walks throughout the trail which add in a bit of variety for paws.
Do take note, however, there are steps into and out of the gorge, as well as some stairs within the trail. Make sure your pooch is able to handle stairs.
Also, this is one of the most crowded of all Hocking Hills hikes, so odds are you may encounter other dogs on this trail. Something to keep in mind if you're dog is reactive to other dogs.
Read More About Old Man's Cave.
Chapel Cave
Chapel Cave is a bridle path, so you are less likely to encounter other dogs. When we hike this path, we generally only see one to two other groups of hikers.
You may, however, have horses and riders using the path.
Due to the horse traffic, you'll encounter some poop, so 1) wear your boots and 2) be advised if you have a dog who likes to roll in poop to leave his/her scent.
This particular path can get muddy and crosses a stream a few times. So, your friend may get a bit messy on this hike.
Despits all these warnings, Chapel Cave is a magnificent hike.
The trail is relatively flat until you reach the cave, where you'll have to ascend some to reach this awe inspiring feature. The hike is surrounded by the beautiful foliage and rock walls common to the area.
Natural Ohio Adventure website's info on Chapel Cave.
A Few Additional Notes
Be sure to keep your dog on a leash at all times.
Bring plenty of water to keep your furry friend hydrated.
Bring dog waste disposal bags to clean up after your dog.
Dogs are not permitted at Conkle's Hollow or Rockbridge.
More Hocking Hills Articles: