Hocking Hills State Park can get super crowded on the weekends and plain crazy during the summer and fall.
While Old Man's Cave, Conkle's Hollow, Cedar Falls and Ash Cave are wildly popular for a reason, if you've already done those trails, then give the following paths outside of the state park a try.
Great news – the beautiful gorges, rock formations and lush greenery of the Hocking Hills don't stop at the state park borders.
There are plenty of less traveled trails that still encompass the magnificence of the region.
Split Rocks at Old Growth Forest (Camp Oty'okwa)
Location: 24799 Purcell Road, South Bloomingville, Ohio 43152
Because it is maintained by the smaller organization Big Brothers and Big Sisters of Central Ohio, the Split Rocks trail isn't as well publicized as the Ohio State Park.
To access the area, you will drive through a camp. There are a few designated parking spots at the trailhead.
This trail takes you along a tree lined ridge and ends at a spectacular set of rocks that form a sort of maze. Spend time exploring among the rock walls and boulders for a great representation of the rock formations of the area.
Accessing the base rock formations requires some off trail large steps and scurrying, but it is well worth it if you are up for the task.
Rock Stalls Nature Sanctuary (Camp Akita)
Address: 29886 Rock Stull Rd., Logan, Ohio 43138
Situated north of the Hocking Hills State Park area, Rock Stalls (also called Rock Stulls) is worth making a bit of extra effort to get to.
Imporant Note: before heading here, do take a screenshot of your map or directions, as cell signals can be spotty in the area.
After a brief walk on a forested path, you will reach an area where you can descend into a gorge.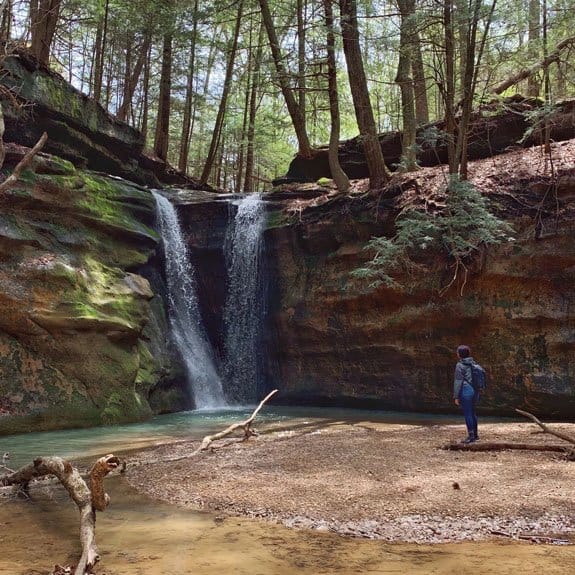 In the spring, the floor of the gorge is blanketed in beautiful Ohio wildflowers.
We recommend visiting in the spring or within a couple of days of rain to be able to view the multiple waterfalls spilling over the gorge rim. However, it is still a great hike no matter your timing.
Chapel Cave (Hocking State Forest Bridle Trail)
Location: 24798 Big Pine Rd, Logan, OH 43138 – Hocking Hills Rock Climbing and Rappelling Area Parking Lot
If you want to stay closer to the state park area, yet still get off the beaten path, consider hiking the Ohio State Forest's Chapel Cave bridle trail.
Chapel Cave is a stunning feature set among the hills. And it is actually a cave, as compared to the "caves" such as Old Man's and Ash, which are not true caves, but recessed areas among the rocks.
Chapel Cave is also nicknamed "21 Horse Cave" because it is said to be deep enough keep 21 horses out of the elements.
While walkers are allowed on bridle trials, you will want to wear boots to avoid the, um, evidence of the horses (read: you will come across piles of horse poo). In addition, this trail can get muddy, so boots are advised.
Airplane Rock (Hocking State Forest Bridle Trail)
Location: Big Pine Road, Park on Roadside – Look for Orange Gate, After Conkle's Hollow from SR 374
If you are trying to avoid the crazy October crowds of Hocking Hills State Park, then Airplane Rock is a great option.
The pinnacle of the hike is a sweeping view of the tops of the tree lined hollows of the area. This hike is especially beautiful during the autumn when the trees are most colorful.
Airplane Rock is so named because if you carefully venture along the rim of the viewing spot to the right and look back at it, the rock resembles the front nose of an airplane.
This path ascends so many feet, making the path to Airplane Rock an incline. So be prepared for an uphill hike.
If you're up for a longer hike, you can do a loop trail that includes both Airplane Rock and Chapel Cave. Check out the bridle trail map for the route.
Best Kept Secret Trails in Hocking Hills
It is possible to visit Hocking Hills and avoid the hordes of humanity along the well know state park trails.
If you're looking for a way to enjoy the region away from crowds or just want to explore a new area, these five trails are the perfect places to get started.
Additional Articles:
Pin It For Later: